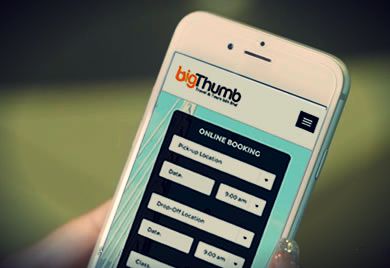 Explore Penang Without Worries
Car Rental Penang – Budget Car for Rent Since 2011 Covering George Town and more…
Our Car Rental Services
Welcome to Big Thumb, the ultimate car hire haven in Penang. At Big Thumb, we pride ourselves on providing a vast range of top-quality vehicles available for hire. Our car rental provider rates are competitive, and our flexible terms cater to your unique needs.
We are covering the whole Penang area, including George Town, Gurney Area, Penang International Airport (PEN), Lapangan Terbang Antarabangsa Bayan Lepas, Butterworth KTM Station, Queensbay Mall, Penang Jetty, Batu Feringghi, Sungai Nibong Bas Terminal, Komtar and Prangin Mall.
It's a hassle-free, convenient, secure, fast, and easy process with our online booking system. With just a few clicks to choose a one-way, round-trip pick-up and drop-off point, you can already reserve the car model (BMW, Toyota Vellfire, MPV Car, Starex) of your choice (available in the budget, luxurious and spacious). We also offer discount prices from time to time. Our goal is to make every traveler's experience worthwhile in Penang (Pulau Pinang) by providing excellent car rentals (kereta sewa).
Wide selection of vehicles
A vast array of vehicles is available to meet diverse travel needs. Whether you're a solo traveller or a couple in need of a compact, eco-friendly model, or if you require large SUVs and vans for family holidays or group excursions, we have you covered.
Our range also includes luxury saloons that guarantee elegance and comfort for business-related journeys. All our cars are kept in excellent condition, thoroughly clean, and equipped with key features to amplify your driving experience around Penang.
No matter what vehicle you select, safety remains paramount; hence, every car on offer undergoes routine examinations and upkeep checks to maintain optimum performance levels whilst assuring peace of mind when at the helm.


Competitive rental rates
The ultimate objective here is to provide an economical journey with unbeatable rental rates. Prices are carefully structured to be unparalleled in the market, guaranteeing top-notch quality and convenience at the lowest price best possible price.
Recognising that not everyone has a limitless budget, an array of options has been crafted to cater for every financial situation. Be it luxury cars for those extraordinary moments, economy vehicles for the prudent traveller or even spacious vans for group trips – value for money combined with outstanding service is guaranteed.
No hidden fees no unwelcome surprises; you only pay what was quoted!


Flexible rental periods
Every individual's travel plans are distinct. That is why the option for variable hire periods is available to accommodate a wide range of trips – even if you only require a vehicle for one day or an entire month.
The primary goal is to offer peak flexibility, ensuring your journey remains seamless and unhindered. You can now rent these cars confidently whenever required, with no concern about strict time limitations or hidden charges.
This unparalleled liberty grants you the opportunity to organise your tour around Penang at your preferred pace, providing the ultimate convenience that numerous other car hire firms fail to deliver.


Convenient pickup and drop-off options
Your car hire process is made seamless with our flexible pick-up and drop-off alternatives. Whether you're landing at Penang International Airport or residing in a city hotel, we have all bases covered.
Our team sees to it that your vehicle awaits exactly when and where required. Likewise, when your trip comes to an end, just bring the hired vehicle back to the place that aligns with your travel arrangements most beneficially.
We recognise how essential adaptability is in today's swiftly changing environment!

Additional services available (GPS, child seats, etc.)
Going beyond the standard car hire, a myriad of supplementary services are made available to elevate your driving experience.
Child Seats: Given utmost priority is safety. As such, child seats are provided for those journeying with infants.
Roadside Support: In the unlikely event of an accident or breakdown, rest assured that there's always a roadside support group ready to assist.
Pick-up and Drop-off Choices: Flexibility is offered when choosing where you would like to collect and return your hired vehicle. You may choose from various locations within Penang Area including Penang International Airport.
Upgrades: For only a small additional fee, luxury models offering ultimate comfort can replace average-priced selections for hired cars.
6 Unbeatable Reasons Choose Us
At Big Thumb, we are all about you: offering exceptional customer service is our top priority. Our fleet of cars isn't just clean and well-maintained; they promise a comfortable ride to every destination.
You'll find no surprises in our pricing; everything is transparent with no hidden fees. The entire booking process? It's as easy as pie! Plus, being locals ourselves, we're always ready to share insider tips on Penang's must-visit spots.
Choose us for a car rental experience, unlike any other car hire in Penang.
Why Direct Booking?
Make direct booking with a car rental provider like us to enjoy the best rates and services. Many car rental portal partner with local car rental providers. They often incur extra expense and commission, thus making their rates higher than ours.
Best Price
As a car rental provider, we can save all the commission and expenses to give you the best rate in town.
Free Delivery
Free of Charge car pickup and drop off at Penang Airport, Sungai Nibong Bas Terminal, and Queensbay Mall.
New Car, Well Kept!
Most of our cars are very new and less than 3-4 years old. They are well kept, cleaned, and passed our quality check procedure before handing over to you.
Years of Experience
We have been running our business since year 2011. In case you need any help, we will able to provide the best quality services immediately.
Small Local Brand But 5 Star Services
We may not have big name like Europe Car, Avis, or Hertz. But, we care about our customer more than anyone else. You can talk to us in person or ask for other special requests. We will try our best to help and make sure you have a pleasant trip in this gorgeous island.
Testimonials – Don't Just listen To Our Word
Check out what our customers said about us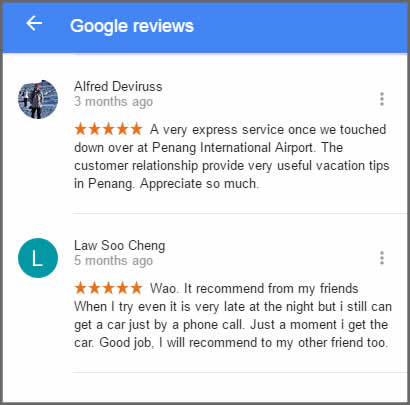 Our customers have always been the key drivers of our success. They are consistently impressed with their experiences, from booking to drop-off. Their praise and satisfaction attest to the high-quality service we provide every day.
From solo travellers needing a compact car for city navigation, couples seeking luxury vehicles for special occasions, and right up to large families requiring spacious MPV, there is something for everyone at Big Thumb!
Contact Us for The Best Car Rental Penang
Reaching out to us is simple! Just fill out the form on our website or give us a call. Your journey in Penang starts with Big Thumb – we're eager to assist you!
Looking for more reviews?
Get notified from us about the latest special offers and flash sales up to 50% Off!
Tips for Renting a Car in Penang
Planning your trip to Penang? We've got some essential Penang car rental top tips for you! Booking your car hire in advance can help secure the best rate. When picking a car type, consider the kind of journey you're planning and the number of passengers for maximum comfort.
The pick-up location is crucial too – our accessible stops include Penang International Airport and George Town area, among others. Choose between self-drive or hiring a driver based on what suits you best.
Let us make your stay at the Penang airport smooth sailing with these handy tips!
When to book
Having a well-defined travel itinerary can always alleviate anxiety and conserve funds. Reserving your car hire ahead of time, especially during the height of tourist season, guarantees availability and typically results in more favourable rates.
We generally advise making your booking as soon as you've confirmed your Penang holiday dates. Those who plan ahead get to select a new car from a wide variety of vehicle models whilst benefitting from competitive prices! The advantage of early booking lies in the reassurance that everything is taken care of before you even board the plane.
Popular car types
We present an array of other car types of favoured car types to accommodate every journeyer's requirements. Our assortment encompasses:
Compact cars – An optimal choice for single travellers or pairs desiring fuel-efficient vehicles.
Saloon/Sedan cars – Granting more room, these are perfect for petite families or corporate commuters.
SUVs – A brilliant selection for larger parties or those aiming to explore beyond the norm.
Luxury motors – For a dash of sophistication and comfort, our premium collection delivers luxury saloons and sports motors.
People carriers – Tailor-made for large families or group trips, ensuring all participants remain united throughout the travel.
Available locations
Picking up your hire car at Penang International Airport is a piece of cake, allowing you to begin your voyage as soon as you disembark. We also offer supplementary drop-off points around George Town for supreme versatility.
Regardless if you're en route directly to your lodging or must make a flight back home, take comfort in knowing we have all of Penang under our wing. Our wide-ranging infrastructure guarantees that obtaining and returning your hire car is without trouble, freeing up time and energy on travel arrangements.
Extra services (self-drive or with driver)
Enjoy the liberty of deciding your travel mode in Penang. To meet diverse requirements, the following additional services are provided:
Self-drive facility: Have total command over your itinerary. Embark on any path or pause at any location you fancy without needing agreement from a driver.
Inclusive driver service: If you're unfamiliar with roads in Penang or prefer easing off during travel, choose our skilful drivers' assistance.
Additional amenities: Extra conveniences such as child seats or GPS devices can be arranged upon request.
Round-the-clock customer support: Should there be difficulties during your hire period, our squad is prepared to help anytime.
Comprehensive insurance cover: All automobiles come with extensive insurance for a worry-free adventure.
A Registered Member of MATTA & Tourism Malaysia
Car Rental Penang George Town – Big Thumb Rent a Car Ventures
86, Jalan Kelawai, George Town, 10250 George Town, Pulau Pinang
Phone: +6013-231 6681
FAQs
1. What services does Big Thumb provide for car hire in Penang?
Big Thumb provides affordable car hire deals, including new cars with free upgrades, giving you maximum flexibility when you rent a car in Penang.
2. Where can I pick up the rental car from Big Thumb?
You can collect your rental car at the pickup location conveniently situated at Penang airport's arrival hall or anywhere else on Penang island as prearranged.
3. What is the pricing for a rented car from Big Thumb?
The average prices offer high value for cheap car hire with extra cost only necessary if the returning car has the car to a different drop-off point or requires additional deposit coverage.
4. Does Big Thumb have various types of cars to rent?
Yes! From Perodua Bezza to Pulau Pinang and other types of vehicles, you get multiple choices according to average price up to your need while looking through their search portal for deals found.
5. Is parking easily accessible in Penang with a rented vehicle?
Absolutely! With minor minute informing needed, one could save significant time locating ample parking spots across the city during their experience using our Car Rental service in Penang.
6. How does it stand against other companies?
With its highly recommended reputation due to steady customer satisfaction rates, it competes well against merge car rental company and others providing comparable service around locations like Penang Airport etc.
Contact Us
Big Thumb Rent a Car Ventures
Plaza Ivory, 2-2-12B University Place, Halaman Bukit Gambir,
11700 Gelugor, Pulau Pinang
+604-225 0000/ +604-225 0238
+604-657 2608
info@bigthumbgroup.company